Thank you for your interest in Honeycutt Land Surveying, P.A. !!!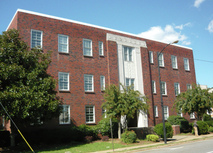 We are located in historic downtown Newton, NC!!!
Originally formed in 1984, Honeycutt Land Surveying, P.A. strives to bring you the finest in professional land surveying services. We excel in all types of surveying including, but not limited to, Construction Staking, Boundary Surveys,Topographical/Design Surveys, Flood Elevation Certificates, ALTA Surveys, Subdivision Planning and Development, Loan/Mortgage Surveys and CAD Services.
---